If there is one thing that everyone should know about me it's that I love food. I know what you're thinking. Who doesn't love food? But I seriously love food. The majority of my holidays revolve entirely around food. When planning my next trip away, the first thing I think of isn't how beautiful the beach will be or what monument I will visit, it's the food I will eat there.
Croissants in Paris, gelato in Florence, New York hot dogs, Chicago deep dish pizza, Key Lime Pie in Florida. I want it all.
So it was with slight trepidation that I planned my recent trip to the Hawaiian island of Oahu. Having been to Fiji and Vanuatu, I've had previous run-ins with Polynesian food and have been left wanting. Taro, more like Ta-No.
Friends and family had regaled me with their tales of eating in Hawaii. American fast food chains serving super-sized meals seemed to be the go-to Hawaiian dining experience.
Not one to shy away from a food challenge (I run away from all other challenges life throws my way), I made it my mission to seek out the best of what Hawaii had to offer.
You can make sure you don't miss out on trying any of this amazing food by getting this Hawaii Food Checklist for your trip.
Here is a list of my top eats on Oahu for a truly unique Hawaiian experience:
These delicious cream puffs/profiteroles are filled with creamy chocolate custard and topped with a swirl of chantilly frosting. The decadent chantilly frosting transforms an ordinary cream puff into something magical.
Tip: If you're stopping by Liliha Bakery for breakfast make sure you get a serve of butter rolls with guava jelly. Don't be afraid of the nuclear red colour of the jelly, it's actually delicious.
2. Chocolate Haupia Cream Pie – Ted's Bakery
Located on the North Shore, Ted's Bakery produces some of the best pies and cakes on Oahu. Their speciality pie is the Chocolate Haupia Cream Pie. It consists of a layer of dark chocolate custard, a layer of haupia (a traditional coconut pudding that's popular in Hawaii) and is topped with whipped cream.
Tip: If you can't make it to the original Ted's Bakery on the North Shore you can find Ted's Bakery pies stocked in a number of supermarkets around Honolulu.
You can't take a trip up to the North Shore without stopping at one of the many shrimp trucks lining the side of the highway. Giovanni's is the most well known, and supposedly the oldest, but if you have time you should try a few different trucks to compare. Just remember to pack some gum because the garlic packs a punch.
Malasadas are Portuguese-style donuts that are extremely popular in Hawaii. They are made with a yeast dough that is deep-fried and then sprinkled with sugar and cinnamon. You can get them plain, or filled with chocolate, vanilla, or specialty custards (pineapple, macadamia nut etc.). While I was in Hawaii I sampled a few different versions and my favourite, by far, was the chocolate custard-filled malasada.
Tip: In addition to the store located in Honolulu, there is a Leonard's food truck selling fresh malasadas at the Waikele Outlets.
The plate lunch is a Hawaiian staple. It generally consists of a meat of your choice, two scoops of white rice and macaroni salad. Rainbow Drive-In is a favourite with locals, offering cheap and tasty food.
Tip: Make sure you ask for "gravy all over"! I stupidly forgot to ask, and while it was still delicious I felt like I missed out on the true plate lunch experience.
Shave ice is exactly what it sounds like – shaved ice. The ice is shaved by a machine that creates fine flakes of ice that perfectly soak up the flavourful syrups. Matsumoto has a large variety of syrups; some of the weirder ones being root beer, cotton candy, white cake and pickled mango. Don't forget to add your extras too! Condensed milk, ice cream and adzuki beans can be added to the shave ice to greatly enhance the experience.
7. Guava Chiffon Pancakes – Cinnamon's
Cinnamon's is one of the best breakfast spots on Oahu. They have an extensive menu but my must-eat is the guava chiffon pancakes. I was initially worried that they were going to be sickly sweet, but I was pleasantly surprised. The guava sauce has just the right amount of sweetness and the pancakes are light and fluffy.
Tip: Be prepared to wait because there is usually a crowd.
8. Loco Moco
I couldn't have a list of Hawaiian eats and not include this quintessential Hawaiian dish. You'll find  loco moco served at most restaurants on Oahu. It is made up of a big mound of rice, hamburger patties, two fried eggs and gravy. While not my first choice for breakfast, everybody should at least try it once.
Tip: For the health conscious, Goofy Café & Dine have a great Loco Moco that is served with brown rice.

9. Spam Musubi
Spam musbi can be summed up as sushi made with Spam.  While the thought of eating spam can be off-putting for some people (I admittedly wasn't too keen to try it), it actually tastes pretty good. The plain sticky rice is the perfect accompaniment to the salty Spam. When visiting Hawaii it's impossible to escape Spam. So if you can't beat them, you may as well join them.
Tip: You can buy Spam musubi from most convenience stores around Oahu. But, I'm particularly fond of the Mickey Mouse-shaped musubi available at the Aulani Disney Resort.

While Hawaii is no longer the pineapple capital of the world, you can still visit the Dole Plantation to learn more about the history of pineapple in Hawaii and have some delicious pineapple dole whip. Dole whip is a pineapple-flavoured soft serve. A nice refreshing treat for after you've tackled the pineapple maze.
With a bit of planning and research I was able to discover that Hawaii has a lot to offer beyond chain restaurants, root vegetables with questionable names, and meat that comes from a can (although there is a lot of that). Where else can you get your bacon and eggs served with a side of rice? Or find 10 different flavours of Spam? Or have the most amazing pho one night and a mouth-watering burger and fries the next? Hawaii truly is a big old melting pot of people and cultures, and the outcome is pretty spectacular.
Stay organised and make sure you don't miss out on trying any of this amazing food by getting this Hawaii Food Checklist to print out before your trip!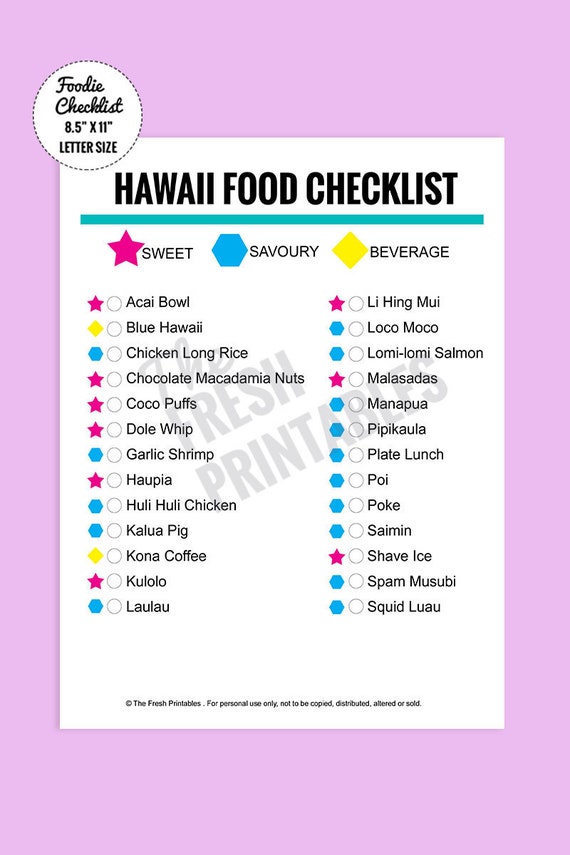 Or if you want to make sure you see all the sights while in Oahu, download and print this Oahu Travel Bucket List Free Printable
If you need further help planning your Hawaiian vacation, I found the following guides really helpful:
Accommodation note: We stayed at the Outrigger Waikiki Beach Resort and I absolutely loved it! I'm not embarrassed to admit that my favourite part of it was the fact there was a Starbucks connected to the hotel so I could have my daily morning (and occasionally a sneaky afternoon) coffee.
Let me know your favourite spots on Oahu to get 'ono grindz' (delicious food)!
Planning a trip to Disney's Aulani Resort? Check out my top 10 tips here.
This post contains affiliate links, which means we receive a small commission if you make a purchase using these links. It does not cost you any extra but it does help with the costs of running this site. And for that, we thank you.