You've probably heard of Schitt's Creek. I knew it existed for years but was put off by the silly name. Should have known better than to judge a TV show by it's title! Jane the Virgin, That '70s Show and Two Guys, a Girl and a Pizza Place? All great comedies.
Thankfully, after multiple recommendations, I finally started watching and then ended up bingeing four seasons in a month. What I didn't realise before I started watching Schitt's Creek was that it's Canadian, co-created by the great Eugene Levy and his son Dan and basically a flipped version of The Beverly Hillbillies. If that's not incentive enough to dive in, here are 10 more reasons to watch Schitt's Creek!
1. It's relatable
The Rose family (father Johnny, mother Moira, son David and daughter Alexis) is extremely wealthy but after their business manager does something dodgy with their finances, they lose everything. The only thing they're allowed to keep is a small town that Johnny bought years ago as a joke for David's birthday – Schitt's Creek. That's not the relatable part.
It's what happens to the family after they move into the local run-down motel that makes you empathise. They have to adjust to their new lives by scraping by with very little, dealing with annoying people and generally having to do things they really don't want to do. Relatable!
2. Annie Murphy as Alexis Rose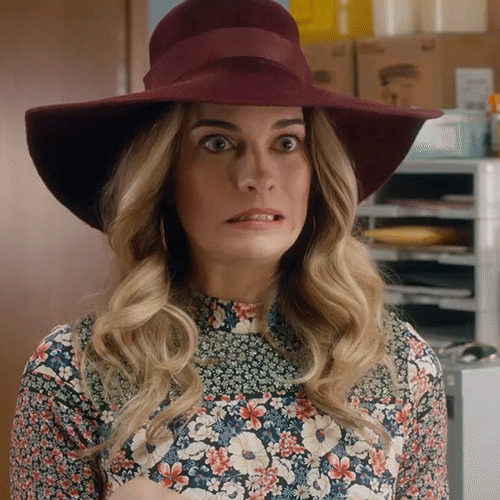 Alexis starts out as a shallow, spoiled, party girl who totally does whatever she wants with literally, like, zero interest in the consequences. Thankfully, small town life (and nice men) actually makes her thrive and grow into a really likeable character. She has some of the best mannerisms (including limp wrists and a chin jut) and one liners on the show. Someone kindly compiled all the times she said "David" (including the iconic "Eww, David!") and it's worth watching multiple times.
Great Alexis quote: "You know what, David? You get murdered first for once."
3. The LOL moments
Watch the clip above for a hilarious example of one of the show's many stellar comedic moments.
4. Eugene Levy as Johnny Rose
You might recognise Eugene Levy as Jim's awkward dad from American Pie. I fondly remember him as the crazy guy with the broken arm in Splash. Johnny is the always impeccably dressed head of the Rose family. Although he's not happy with their situation, he tries to make the best of it. Except he's constantly hitting roadblocks. It's either country bumpkin mayor Roland Schitt, his snobby wife, his lazy kids or even his own cluelessness that gets him in trouble. All that aside, he's a good husband, supportive father and generally a well-intentioned guy who just wants the best for his family.
Great Johnny quote: "Tweet us on Facebook!"
5. The Rose family dynamics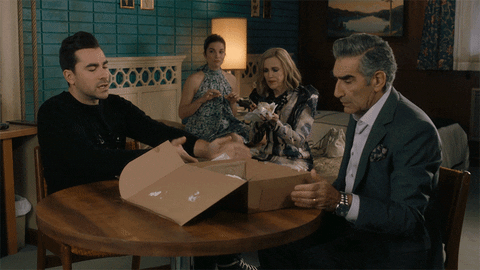 The Roses permanently live at the Schitt's Creek motel. David and Alexis are forced to share a twin room and Johnny and Moira share the adjoining room (which is 80% Moira's wig collection). The episodes that open with a morning scene at the motel are the best because they usually involve some snappy Rose banter. Johnny and Moira know next to nothing about their kids and David and Alexis are constantly bickering. The thing is, despite all that, they all ultimately love each other.
6. Catherine O'Hara as Moira Rose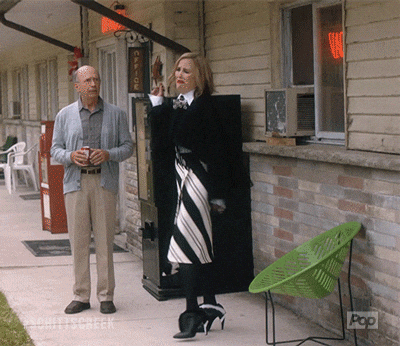 You should recognise Catherine O'Hara as Kevin's mum from Home Alone. If you don't then I suggest you remedy that immediately. Moira Rose is the kind of woman who wears a waistcoat and brooch over her pyjamas and whose wacky vocabulary is communicated through an indistinguishable accent. She is probably "the worst" of the family in terms of selfishness – she makes a pregnant woman drive herself to hospital because "her nerves were fried". Of course, that's what makes those rare Moira goodness moments really shine. Just for kicks, here is 22 seconds of Moira saying "baby" or "bebe".
Great Moira quote: "A heavy salad might as well be a casserole."
7. The townspeople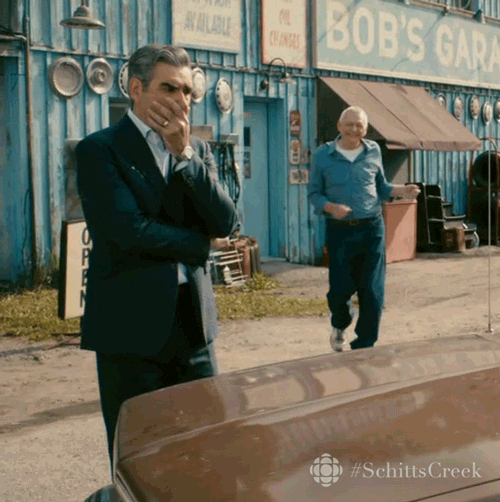 Much like other fictional small town characters, you'll grow to love these ones. Although the Roses bought the town as a joke, the townspeople still welcome them and are generous with what they have. Of course they all have their trademarks: Twyla's perkiness, Ronnie's apathy, Jocelyn's hairdo, Stevie's sarcasm, Ray's career versatility and my personal fave, Bob's jaunty jog (see above)!
8. Moira's wardrobe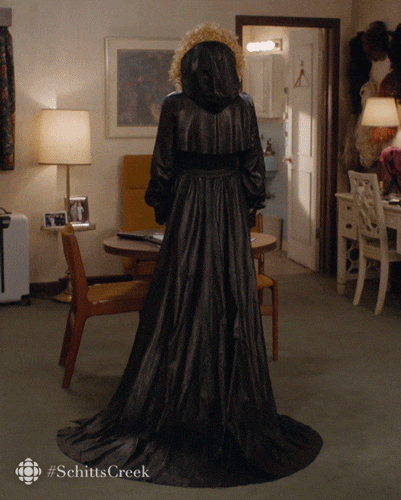 Johnny is always in a sharp suit. Alexis rocks the boho-chic look. David wears a lot of stylish monochrome outfits. Moira…well, her fashion sense is very unique, like a cross between Lisa Vanderpump and Morticia Addams. She matches David's colour palette – sticking to mostly black and white. Don't let the lack of the rainbow trick you into thinking her wardrobe is boring! If a fashion designer's tool kit exploded, you would get a Moira Rose ensemble. Gaudy jewellery, feathers, lace, ruffles, gloves, tassels, fishnet stockings and of course sky-high heels. Sounds ridiculous but she totally pulls it off. And of course there are the wigs – one for every occasion!
9. Dan Levy as David Rose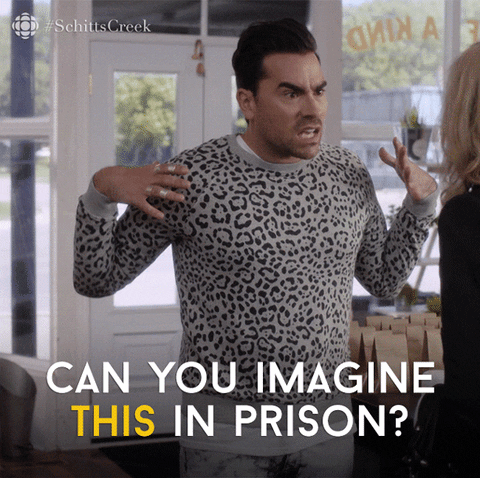 For me, David is the real gem of the show. Not just because of his expressive eyebrows, funny one-liners, well-coiffed hair or how he ends every sentence with a lingering "so…". Once he starts building relationships with people in town, you get to see a real vulnerability which makes him so much more likeable. They also address his sexuality in a way that doesn't feel contrived or forced. He's a genuinely refreshing character who I could watch all day!
Great David quote: "I'm trying very hard not to connect with people right now."
10. The heartwarming moments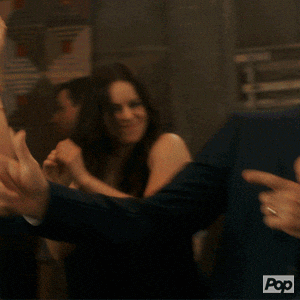 Not all comedies can hit you right in the feels. This one does. Schitt's Creek weaves emotion in really well. I won't spoil it for you but there are some really great romantic relationships and friendships to look forward to! But what really makes Schitt's Creek heartwarming is the bond between Johnny, Moira, David and Alexis. They're all in this new challenging situation together and 100% have each other's backs.
The first five seasons of Schitt's Creek are available to stream on Netflix Australia, purchase on iTunes and watch on ABC Comedy.